Status: full restoration in progress, it will be completed by summer 2015.
Owners: Marc and Josee.
Location: Montréal, Québec, Canada.
The Panhard was bought in Detroit, Michigan in 2010.
Follow the project : http://panhardquebec.blogspot.ca (in French)
This Panahrd has a 851 cc air-cooled flat-2 motor, 50HP.
The Panhard PL 17 is an automobile made by the French manufacturer Panhard from 1959 until 1965. Presented on June 29, 1959, as successor to the Panhard Dyna Z, the PL 17 was developed from the older car, but with an even more streamlined body than its predecessor.
The model's name was derived from "PL" for "Panhard et Levassor" (the original full name of the company), with the "17" coming from the sum of 5+6+6, being 5 CV (fiscal horses, in the French power rating system) plus 6 for the car's six seats, plus 6 for the car's economy of 6 L/100 km (39 mpg-US) .
About Panhard:
Panhard et Levassor is one of the largest and most profitable manufacturer of automobiles before World War I and sold their first automobile in 1890 (based on a Daimler engine license. After World War II the company was renamed Panhard (without "Levassor"), and produced light cars such as the Dyna X, Dyna Z, PL 17, 24 CT and 24 BT.
In 1955 Citroën had acquired a minority 25% interest in Panhard, and ten years later, in 1965, Panhard's automobile division was finally absorbed by Citroën: the company ceased production of the PL 17 in the same year. The last Panhard passenger car was built in 1967. Since 1968 Panhard has only made armored vehicles.
1959 PANHARD PL17 L1 "TIGRE" RESTORATION AMERICA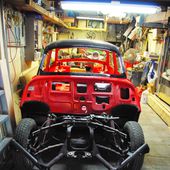 La couleur est faite!!! reste le dernier pollisage à faire! Elle revient à la maison cette semaine!