Peugeot is competing in the 2015 Dakar Rally hoping to write a new chapter in a remarkable history at the event. When it entered in 1987, Peugeot became the first car manufacturer to take on the unique challenge posed by this gruelling endurance race. It then sealed its place in the record books by winning at its first go. Peugeot followed that up with another three consecutive wins with the iconic 205 and 405 T16 Rally Raid models before stopping to take on the equally tough Le Mans 24 Hours. As a manufacturer entry, Peugeot Sport remains unbeaten in the Dakar. For 2015, Peugeot is entering the Dakar with the amazing looking 2008 DKR.

Here are 10 things you should know about this incredible event and Peugeot's participation in it:

It came about because someone got lost in a desert
The Dakar was dreamt up by motorbike racer Thierry Sabine after he got lost in the southern part of the Sahara desert on the 1977 Abidjan-Nice Rally. Realising that navigating the remote sand dunes of a desert posed drivers and bike riders with a unique challenge, he organised the inaugural event which left Paris in December 1978. It gets its name from the capital of Senegal: the rally used to run 6,200 miles from Paris to Dakar. Since 2009, unrest in Africa, particularly Mauritania, means it has taken place in Argentina and Chile.

An endurance event like no other
The Dakar has been called the toughest rally in the world because it represents both a motor race and an orienteering challenge. Like other rally raids, it's an endurance event that takes place over much tougher terrain than regular rallies. This means the vehicles have to be true off-road vehicles rather than the high performance versions of road cars that compete in rallies.

Two weeks of action
The 2015 Dakar starts in Buenos Aires, the capital of Argentina, on 4th January over 6,000miles with some individual stages covering up to 560miles, visiting Bolvia and Chile, before the finish back in Buenos Aires on 17th January.

How many take part?
In 2014, 431 competitors started the Dakar. There were 147 cars, 174 motorbikes, 40 quad bikes and 70 trucks. Entries were made up of 51 nationalities. The highest proportion was French (17%) followed by the Dutch (13.5%) and Argentinians (12.6%). Of the 431 entries, 48% finished.

All-comers welcome
The Dakar is open to all-comers with professional drivers and manufacturer teams pitting their wits and powers of endurance against amateurs. There are four categories of vehicle: motorbikes, quad bikes, cars and trucks. All are either heavily modified or purpose-built. The car class is for vehicles weighing less than 3500kg and for trucks for vehicles that are heavier than 3500kg.

Which class is Peugeot entering?
The Peugeot 2008 DKR is in the T1 Group for 'Improved Cross-Country Vehicles'. This is subdivided according to whether they're petrol or diesel, two or four-wheel drive. The T2 Group is made up of 'Cross-Country Series Production Vehicles'. These are subdivided into petrol and diesel categories and tend to be all four-wheel drive. Peugeot has chosen to run a turbo-diesel with two-wheel drive.

How many crew per car?
Each car has a driver and co-driver. Team Peugeot Total includes Carlos Sainz (Dakar winner), Stéphane Peterhansel (record-breaking 11 Dakar wins) and Cyril Despres (5 Dakar wins). Navigation is done by road books/maps issued the day before and cars are constantly located by GPS.

Drivers and cars out on their own
Much of the route is off-road, covering dunes, mud, camel grass and rocks. For the past three years, the Dakar has run some Marathon Stages for bikes and quad bike racers. For 2015 all competitors will have to endure the Marathon Stages. These run over two days during which vehicle crews can't call upon their teams to help fettle or fix their machines, sleeping in bivouacs makes it a unique event.

How Peugeot made history
Peugeot became the first car manufacturer to compete in the event when it entered the 1987 Paris-Dakar. It was rewarded by a win with former world rally champion Ari Vatanen at the wheel of a 205 T16 Grand Raid. His 1988 effort was derailed when, after 13 stages and while holding a comfortable lead, his 405 T16 Grand Raid was stolen from a service area. The car was returned too late and Vatanen was disqualified leaving team-mate and fellow Finn Juha Kankkunen to win in a 205 T16 Grand Raid. Vatanen won again for Peugeot in 1989, driving a 405 T16 Grand Raid. His third win came the following year, despite a faulty compass and ill co-driver slowing his progress.

Tragedy, terrorists and Thatcher's son
The Dakar hit the headlines in the UK in 1982 when the then prime minister Margaret Thatcher's son Mark and his co-driver disappeared for six days. They were eventually found unharmed. The unforgiving nature of the terrain that the event covers has led to a number of fatalities over the years, including founder Thierry Sabine who died when his helicopter crashed during a sand storm in the 1986 race. In 2008 the Dakar was cancelled days before it was due to start because African organisations affiliated to the Al Qaeda terror group made a direct threat against it. It has run in South America ever since.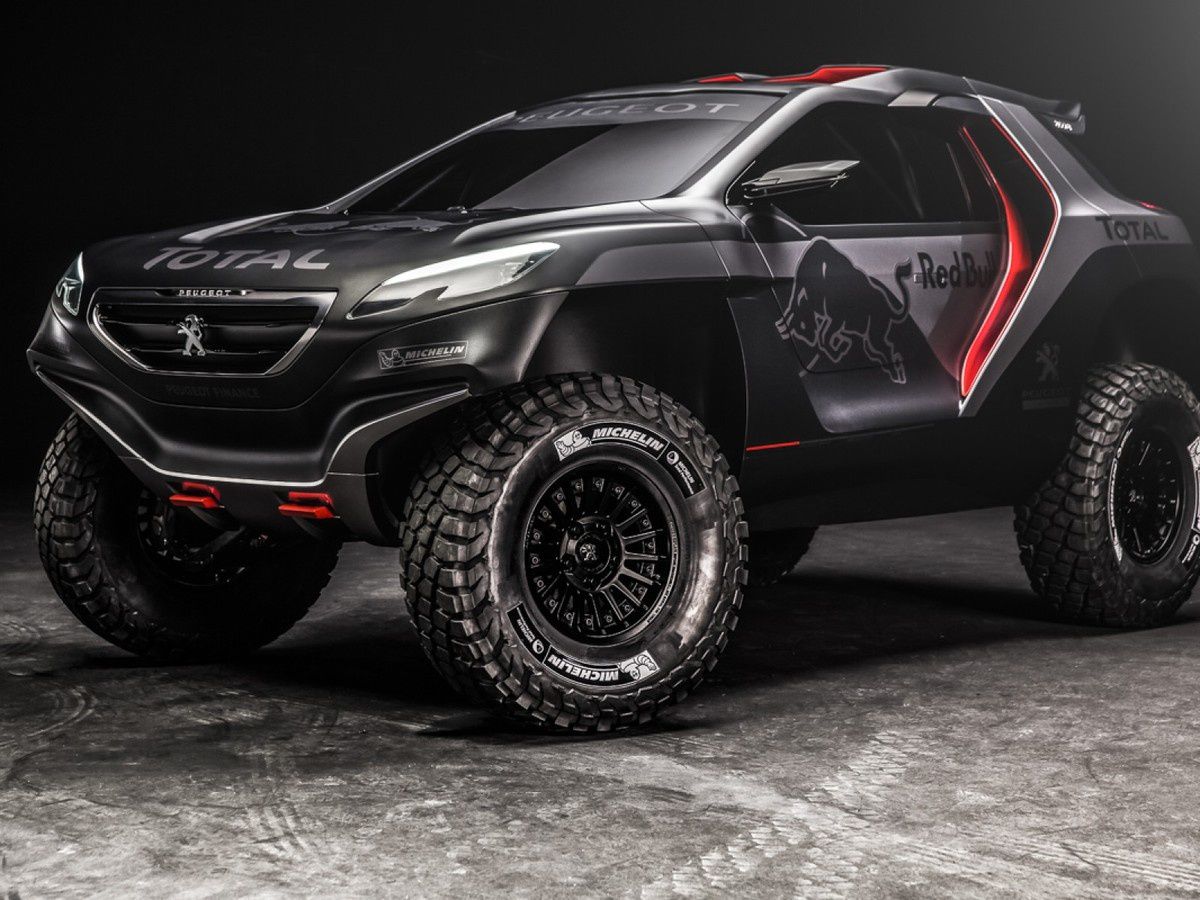 Technical data - 2008 DKR:

ENGINE
Type: V6 bi-turbo diesel
Cubic capacity: 2993cc
Number of valves: 24
Position: Mid-rear
Number of cylinders: V6 (60° 'vee' formation)
Maximum power: 340hp
Torque: 800Nm
Maximum revs: 5,000rpm
Top speed: 200kph/125mph
Lubricant: TOTAL QUARTZ 10 W 50

TRANSMISSION
Type: Two-wheel drive
Gearbox: Longitudinally mounted six-speed manual sequential gearbox
Lubricant: TOTAL 755 HPX 80 W 140

CHASSIS
Type: Tubular steel
Bodywork: Carbon

SUSPENSION/BRAKES/STEERING
Suspension: Double wishbones
Springs: Coil springs (two per wheel)
Dampers: Adjustable (two per wheel)
Travel: 460mm
Anti-roll bars: Front and rear
Steering and brakes: Hydraulic power steering
Discs (vented): Hydraulic dual circuit, one-piece light alloy four-piston callipers
Diameter: Front and rear discs: 355mm
Wheels (Front/rear): Aluminium two-piece wheels (17 x 8.5)
Tyres: Michelin 37/12.5x17

DIMENSIONS
Length: 4,099mm
Width: 2,033mm
Height: 1,912mm
Front/rear overhang: 641mm/658mm
Wheelbase: 2,800mm
Fuel tank capacity: 400 litres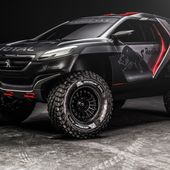 2015 PEUGEOT 2008 DKR, READY FOR DAKAR ! - FCIA - French Cars In America
The muscular, thoroughbred yet beastlike forms of the Peugeot 2008 DKR provide a vivid indication of the new car's serious desire for success. It is behind the wheel of this purpose-designed machine
http://www.french-cars-in-america.com/2014/04/2015-peugeot-2008-dkr-ready-for-dakar.html
PEUGEOT 2008 DKR