A family, from England, drove their 1985 Citroën 2 CV 25,000 miles all around the world. They went to the Artic Circle from the Alaska and Canada with - 30°!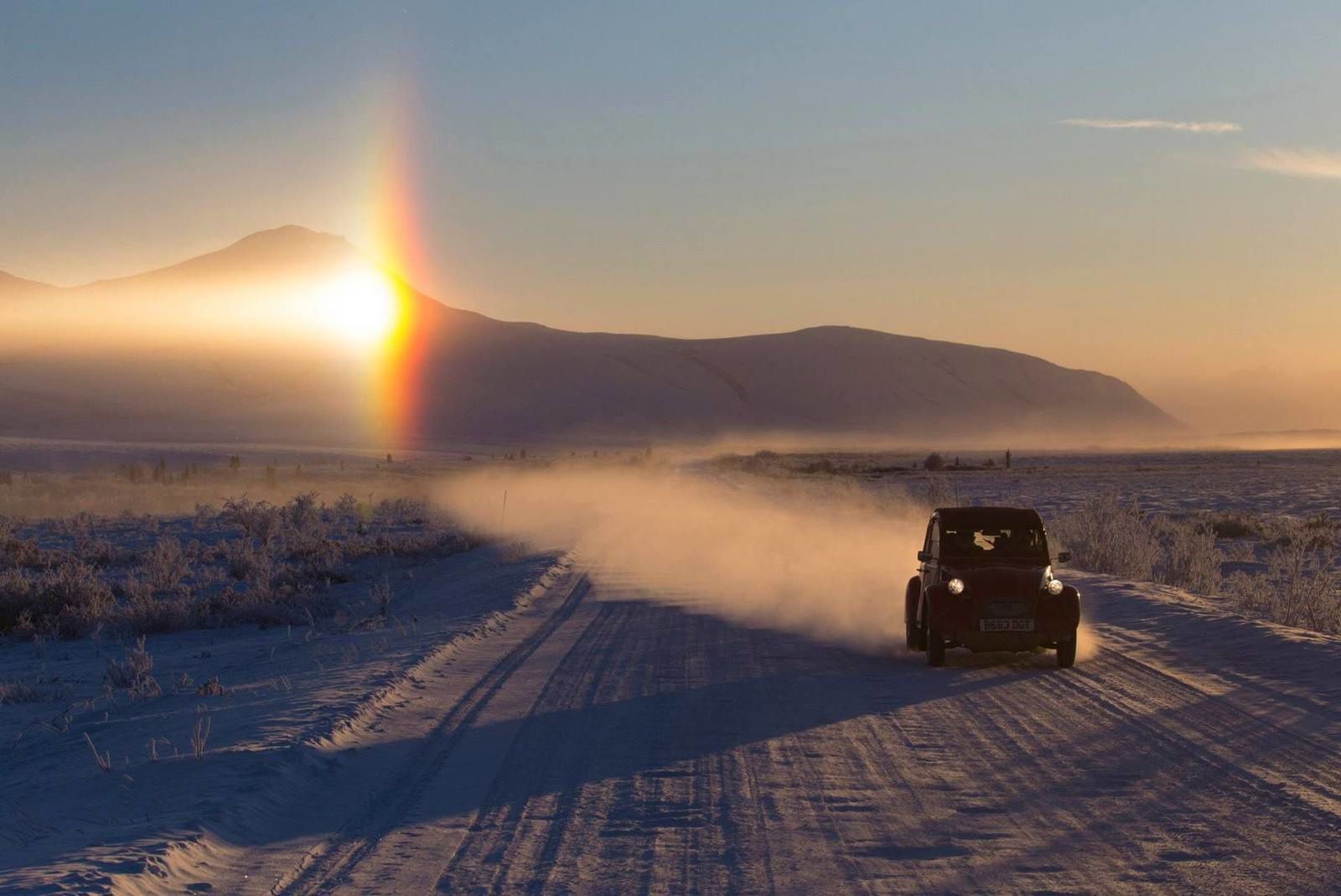 Hereunder some quotes from "Hagerty" and "The News Tribune" :
The 2CV has a following nearly everywhere. Chang expresses his surprise at finding Citroën clubs in the farthest-flung corners of the world, and his gratitude at how welcoming they all are.
"The fans were a major part of the trip," he says, "I would say the highlight. They hosted us, everywhere from Eastern Europe, Russia, and now in Seattle," he says. "I was also surprised how many ordinary people know the 2CV, even though Citroen hasn't been in North America since 1974. Everywhere we went, even in the arctic, people would come up and say, 'Deux chevaux! Deux chevaux! Can I take a picture with your car?'"
"We love this car," Luo said. "It's very charming."
Luo's and Ding's Citroen has its steering wheel on the right side and gets 36 miles to the gallon.
"It's reliable," Cherrick said. "The common man can take apart the engine and put it back together."
Temperatures were 30 degrees below zero in the far north and Luo had to hand crank the car's engine on occasion.
After arriving in North America, the Luo family realized that the Mackenzie ferry crossing (gateway to the Dempster Highway and thus the Arctic) wouldn't be open in November. Undeterred, they travelled up anyway, and spent a week or so traipsing around Alaska and the rest of the region. The little 2CV shrugged off the elements, its cookie-cutter tires biting deep into the snow. The family didn't even need an auxiliary heater.
"I don't think I will stop there," Chang says, when asked about his future plans. When he returns to the UK, it'll be back to work at the office, but the wanderlust remains.
The family was in New York City a few weeks ago. Eduard, one of our Facebook members , drove with the family and their Citroën 2 CV in New York !
Big congradulations for an amazing family trip with an amazing car !
Driving 25,000 miles the world over in a Citroën 2CV
Tuktoyaktuk, Northwest Territories - Hundreds of miles north of the Arctic Circle, in the dead of winter, travellers are few but well-prepared. They drive heavy trucks, laden with supplies and ...
https://www.hagerty.com/articles-videos/articles/2018/01/18/citroen-2cv-road-trip
They left England in a funny little car 25,000 miles ago. Latest stop: Tacoma
If this weekend you spot an odd looking little red car crammed to the roof with people and possessions, give it a friendly wave. Chang Luo, wife Jie Ding, both 38, and their 4-year-old daughter ...
http://www.thenewstribune.com/news/local/article193082064.html