"To paint an object that was designed by someone else is not an easy task for a painter. In the case of a three-dimensional object, which changes according to the environment in particular light, the space offered by the canvas doesn't exist. The shape imposed itself as a logical solution. Thus the pattern of cloth wrapped in a transparent body is born." Said Lovro Artukovic.
"Peugeot is the car brand whose signature is: Motion and Emotion. We see ourselves as an automotive brand that promotes driving pleasure and mobility; there is some notion of freedom of movement. Mines are the opposite of this idea: they tie up literally as figuratively. The strength of this project lies in its many dimensions. This is the result of collaboration between Croatian and French, among private companies, an artist, and representatives of public action. Then it is a true partnership, which aims to improve the quality of life for all. It's a real message of solidarity from civil society to a scourge that affects us all." Added Tomislav Miletic, CEO of Peugeot Croatia.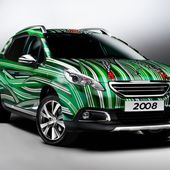 PEUGEOT 2008 ART CAR AGAINST MINEFIELDS IN CROATIA - FCIA - French Cars In America
The Yugoslavian war left more than 1.5 millions mines in Croatia. Today 75 000 mines remain close to the borders with Bosnia and Serbia. Minefields in Croatia Peugeot involved the 2008 in demining ...
http://www.french-cars-in-america.com/peugeot-2008-art-car-against-minefields-in-croatia-bucan