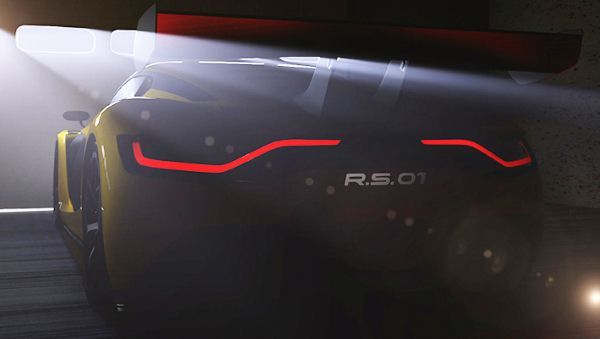 In June, Renault Sport revealed the body lines of our future sports car.
Yesterday, Renault Sport revealed its name: Renault Sport R.S. 01.
The R.S. 01 will weigh about 2,400 lbs. Nothing on a 0-62mph time, but expect it to be quick enough to make you reconsider your life choices.
The next important date is August 27 at the 2014 Moscow Motor Show, when we will tell you all about this spectacular sports car, which is set to become the next star in the World Series by Renault.
The name R.S. 01 is taken from the Formula One. The Renault RS01 was the first Formula One car to be powered by a turbocharged engine. It was also the first to use radial tires, which were provided by Michelin. Designed by André de Cortanze and Jean-Pierre Jabouille, it first appeared at the 1977 British Grand Prix. The rules of F1 at the time permitted 3.0 litre engines of natural aspiration, with a clause for a 1.5 litre supercharged or turbocharged engine. None of the teams had pursued this avenue, and stuck to Ford Cosworth DFV engines, whilst Ferrari, Matra and Alfa Romeo concentrated on developing Flat-12 engines for their cars, and their customer teams of Ligier and Brabham. Leading French car manufacturer Renault decided to develop a 1.5 litre turbocharged engine, and a car to accompany the powerplant.