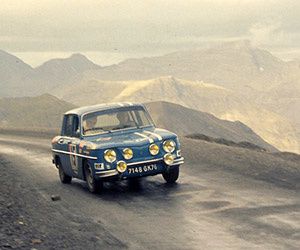 To celebrate the 50th anniversary of the launch of one of France's most emblematic models in fitting style, Renault Classic has entered no fewer than five Renault 8 Gordinis for the 17th Rallye Monte-Carlo Historique.
The five crews are:
N°8: Jean Ragnotti will have the car he drove on his first rally in 1967 (Rallye du Vaucluse). His co-driver will be Michel Duvernay, a former Renault 4L Cross and Renault 5 GT Turbo Trophy winner.
N°12: former Alpine test driver Alain Serpaggi will have Jean-Pierre Prevost sitting alongside.
N°17: Michel Leclère, winner of the 'Premier Pas Dunlop Coupe Gordini' in 1969, has teamed up with journalist Vincent Roussel.
N°19: Thierry Chancel and François Forgeoux are both Rallye Monte-Carlo Historique regulars and will share a reasonably rare 1,100cc version of the car.
N°22: Gilles Zaffini, a Renault agent and motorsport fan from Bron, near Lyon, and his navigator Serge Mollar.

The rally begun on January 24, and Team Renault Classic has chosen to start this year's event from Reims, northeast France. The end is scheduled for the night of January 28-29, in Monaco.