In 2007, Peugeot planned to come back to the US and Canadian markets. A few Peugeot were imported and registered in New Jersey state where the automaker still has an office.
Some rumours stated that the large 407 coupe was designed for the US market.
The plan to come back into the North American market was stopped when the subprime crisis started.
A few years ago, a Peugeot 407 full-size sedan has been spotted on the NJ Turnpike and a Peugeot RCZ at the Detroit Motor Show. These imported Peugeots are probably company cars from Peugeot Motors of America Inc.
Some of the new Peugeots seen on the US roads are driven by the U.N. members and diplomats.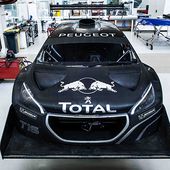 PSA PEUGEOT CITROËN BACK IN THE USA AND CANADA ?
Carlos Tavares, Chairman of the PSA Peugeot Citroën Managing Board, presented last week the 2014-2018 "Back in the Race" roadmap designed to accelerate the Group's recovery. Responding to a question
http://www.french-cars-in-america.com/2014/04/psa-peugeot-citroen-back-in-the-usa-and-canada.html