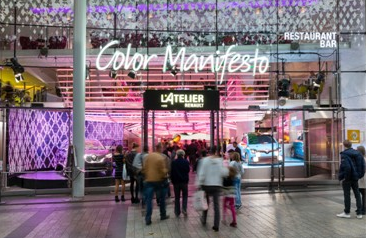 L'Atelier Renault undergoes a metamorphosis to present the design renewal of Renault, from DeZir to Initiale Paris. When Laurens van-den-Acker, Senior Vice-President, Corporate Design, joined Renault in 2010, he set out a new vision of the brand's future, based on the human life cycle. He presented a strategy in the form of a daisy, with each petal corresponding to a key moment in life (falling in love, being a couple, starting a family, etc.). For each petal, Renault has designed a car reflecting the needs of that specific stage in life. L'Atelier Renault is enveloped in an exceptional sculpture of light made up of coloured LEDs, showcasing the six concept cars as part of an interactive dialogue with the architecture. Based on a dynamic scenography, the installation and its 750 LED tubes will evolve to reflect the time of day and the events taking place during the life of the exhibition.
Christopher Bauder, an enlightened artist
Just 40 years of age, Christopher Bauder has made his mark on our daily lives. His work studies how objects are placed in space, and also sound, light, and the interaction between man and his environment. His imposing light installations, by WHITEvoid (the studio he founded in 2004) have travelled to countries around the world, from the Pompidou Centre in Paris, to the National Museum of Fine Arts in Taiwan, via the Mutek Festival in Montreal and the Tsvetnoy Central Market in Moscow. Christopher Bauder has received many prizes for his work, including the Reddot Design Award, the iF Communication Design award, the German Lighting Design Award, and the Design Award of the Federal Republic of Germany. He recently won the Iconic Award Ceremony.
The omnipresence of design in the events hosted by L'Atelier Renault
Young visitors will be able to develop their creativity by taking part in the "concept car model" workshop. Every day, they will have an opportunity to colour in and assemble paper models of four concept cars. While the kids are busy, their parents will be able to have a souvenir photo taken in a photo booth decked out in the exhibition colours. They will also be able to test their photographic talent as part of a photocall. Further, between December 1 and 25, we will have the honour of welcoming Santa Claus, for some unforgettable photos with our younger visitors. Foodies will be able to give their taste buds a colourful treat with the new menu designed to reflect the exhibition. Visitors can take a seat above a wave of light and enjoy a series of colourful cocktails and dishes while enjoying a unique view of the most beautiful avenue in the world. The boutique is also lit up for the event. For the first time, you will be able to find items by bilum, an eco-responsible brand that makes colourful, attractive bags and accessories out of recycled airbags and seatbelts. And if you fall in love with one of our concept cars, you will be able to buy a miniature at a special price of €29 during the exhibition, compared with €50 normally, or one of the tee-shirts from the "concept car" range created by Renault Design.
About L'Atelier Renault
Open daily from 10:30 am to 11:30 pm (1:30 am on Fridays and Saturdays), L'Atelier Renault organizes special year-round events on Renault and the latest Renault news. Visit "L'Atelier Renault Café, a restaurant-bar, with suspended walkways and a mezzanine, to enjoy a relaxing moment at any time of day on the world's most beautiful avenue. L'Atelier Renault also hosts a vehicle sales area, the Renault boutique, which sells brand merchandising, and a free Wi-Fi hotspot.
The Color Manifesto exhisbition will be opened until January 19th, 2014 !