Asking $4,500 obo.
This 1979 Peugeot 504 is a final-year example. Runs and drives great!
The car is powered by a 2.3-liter diesel four coupled to an automatic transmission and is equipped with functional air conditioning. Dual electric cooling fans have been added and recent work included a starter rebuild. Clean Texas title.
The 2.3-liter diesel four produced 70 horsepower from the factory and was upgraded to 505 specs by a previous owner. Older repaint finished in Light Green Metallic over factory alloy wheels. The window seals need to be replaced. The factory AM/FM radio and air conditioning system work well along with the power front windows, while the rear windows are manually operated. The 5-digit odometer shows just over 40k miles, with total mileage unknown.

Offer : http://fcia.proboards.com/thread/450/usa-1979-peugeot-504?page=1&scrollTo=1403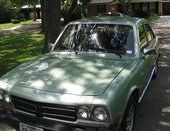 [USA] 1979 Peugeot 504 | Forum - French Cars In America
Asking $4,500 obo.This 1979 Peugeot 504 is a final-year example. Runs and drives great! The car is powered by a 2.3-liter diesel four coupled to an automatic transmission and is equipped
http://fcia.proboards.com/thread/450/usa-1979-peugeot-504?page=1&scrollTo=1403