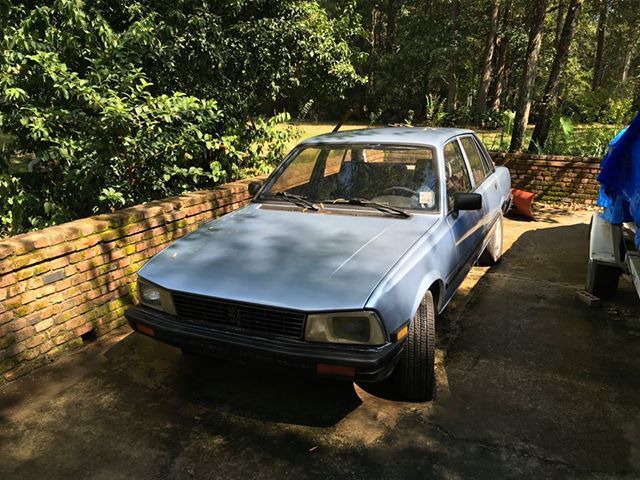 Curtis contacted us to save his Peugeot 505 :
Wife sending it to junkyard soon! Free to a good home. In south Louisiana near Baton Rouge and New Orleans. Call or message if interested. email: cur***@*******.net cell: ***-***-**** My wife and I bought this car in 1985, our first car when we married and it was a near daily driver from 1985 until 2009. It had continuous dealer maintenance until they closed, and later through independent shops with parts from Madhu at Disortex. I replaced the 3 speed transmission with a 4 speed to reduce the engine RPM at highway speeds. Was very simple and straightforward and the best thing I ever did for the XN6 GL. While sitting in the garage not being driven for quite a while and low fuel level, humidity rusted the inside of gas tank (I guess) and since then debris clogs the in-tank pump strainer while running. Tires have dry rotted since and don't all hold air now. There are a few parts in the trunk. not of any major value. The trim pieces on the right in the trunk are covers for the retractable seat belt mechanism at the bottom of the b pillars. I was going to try to have them resurfaced to replace the ones in the car that were faded and turning white. Original steering wheel, which I replaced with one with less worn surface. wheel hubs that I was replacing bearings in, but then just bought entire replacement hubs. After replacing the cracked dash, I had a hard time getting the metal trim between the windshield and the dash snapped back in place. It is shown in one of the pics resting on the hood. Headliner is good, Seats are faded a bit. Back seat backrests were reupholstered. The reupholstered fabric was a near perfect match until some years passed and they faded to a different tint. Also, there is a nice Nakamichi deck in the dash and a CD changer in the trunk. (I know, obsolete..), but you'll notice from the pics that on the right interior side panel of the trunk there are some wires showing. There was an ADS PowerPlate amp there which I was persuaded to donate to another project. So if you choose to keep the current audio setup, it will need a replacement amp.
To buy this car, please contact him through our forum : http://fcia.proboards.com/thread/404/usa-1985-peugeot-505-free or facebook : https://www.facebook.com/pages/FCIA-French-Cars-In-America/1389936404554732
FCIA - French Cars In America. 1.1K likes. #1 for French car news in the USA and Canada ! Since 2009 Peugeot USA Peugeot Canada Citroën USA Citroën Canada DS Automobiles USA DS Automobiles Canada...
https://www.facebook.com/pages/FCIA-French-Cars-In-America/1389936404554732