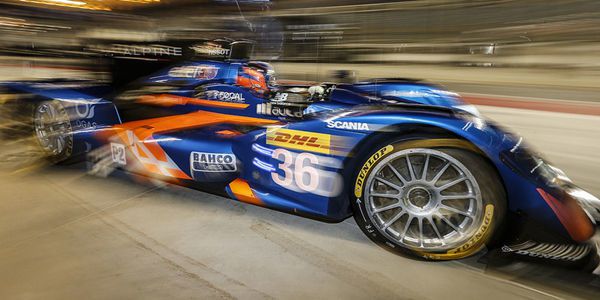 True to tradition, the world class endurance racing season kicked off with today's press conference organised by the Automobile Club de l'Ouest (ACO) and the WEC who revealed the entries for this year's world championship.
Alpine is delighted to announce that two A460s are to compete in the 2016 FIA WEC and the same cars are expected to participate in the 84th running of the Le Mans 24 Hours on June 18-19.
The two new Alpine A460 prototypes will be run by Signatech-Alpine and will form part of the high quality field in the fiercely-contested LMP2 class.
One of the spearheads of the crew of the N°36 prototype, the number readily associated with Alpine since its return to topflight motor racing in 2013, will be Nicolas Lapierre, outright winner of five WEC races. The Frenchman shares Alpine's ambitions plans for the 2016 campaign and has been teamed up with ex-Formula 3 racer Gustavo Menezes. The American youngster has already gained experience of prototype racing within the framework of the United SportsCar Championship.
The N°35 Alpine A460 will be entered by Baxi DC Racing Alpine. Founded by SR-Jackie Chan and David Cheng, DC Racing won several titles in the Asian Le Mans Series before choosing to race an Alpine in the FIA WEC.
As is the case for the N°36 car, two of this car's three drivers have been named. They are David Cheng and Ho-Pin Tung who have raced together for several seasons now.
This year's Alpine A460 and the names of the two drivers yet to be announced will be revealed in the coming weeks, ahead of the pre-season Prologue test that will take place at Circuit Paul Ricard, France, on March 25-26.
Bernard Ollivier (CEO, Société des Automobiles Alpine): "After securing two ELMS titles, after finishing on the podium in our class at Le Mans and after a successful maiden campaign in the FIA World Endurance Championship, Alpine is continuing to step up its racing activities with the addition of a second car and a reinforced driver line-up. Our aim is to optimise our resources in order to ensure the best possible chance of success. There is nothing fortuitous about our 2016 programme. In Nicolas Lapierre, we have recruited one of endurance racing's very best drivers. Meanwhile, in addition to their driving skills, Gustavo Menezes, David Cheng and Ho-Pin Tung will help to promote Alpine in our American markets – notably Latin America – and in Asia, especially in China thanks to our agreement with DC Racing. This promises to be a big year for Alpine and motorsport has a key role to play in that. Our target is to win races."
Philippe Sinault (Team Principal, Signatech-Alpine): "Much will be new for us in 2016, from the drivers and cars to the way the team is organised. We are proud to have established an arrangement with DC Racing which will enable us to run a second car. This is an undeniable plus and opens up new opportunities in terms of strategy. As far as the drivers are concerned, we are thrilled to have Nicolas Lapierre back in the fold. He is a member of the Signature family and we won the Macau Grand Prix together in 2003. His experience of racing in the LMP1 class will help us to progress in every domain. We face a busy time over the coming weeks as we prepare to unveil our two Alpine A460s and as we finalise terms with the two drivers who are to join the four whose names have already been confirmed."