Under the strategic partnership agreement between PSA Peugeot Citroën and the Bolloré Group, Citroën will distribute through its French network the 100%-electric, four- seat Bluesummer, an original convertible totally in phase with the Brand's values. It is an opportunity for both the Bolloré Group and the Citroën Brand.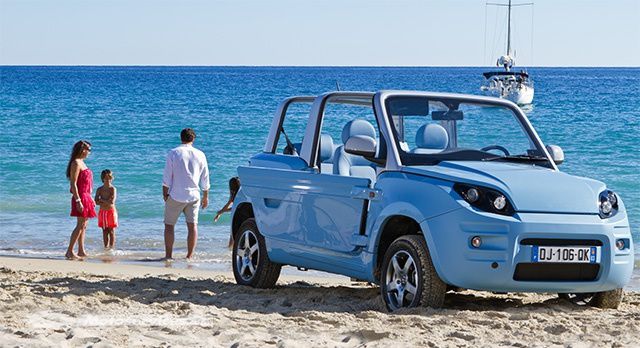 On 17 June, PSA Peugeot Citroën and the Bolloré Group announced the signing of a strategic partnership agreement. The deal includes the distribution and manufacture by PSA Peugeot Citroën of the Bolloré Group's electric car, the Bluesummer. PSA Peugeot Citroën will build the cars at its plant in Rennes starting in September 2015, while marketing of the Bluesummer will be in the hands of Citroën France.
The Brand is indeed enthusiastic about distributing this 100%-electric, four-seat convertible with a body moulded in ABS PMMA plastic dyed in the mass. It is a bold and original car totally in phase with Citroën's values.
The Bolloré Group has developed considerable expertise in electricity storage and the development and application of electrical systems. It is active in the electric mobility market and has designed and developed several vehicles, including the Bluesummer. By marketing the Bluesummer through this partnership, the Bolloré Group will benefit from the strength and expertise of the Citroën Brand's Distribution network – a network recognised and well established all across France.
"This partnership with the Bolloré Group is an opportunity for the Citroën network to increase its sales by attracting to its showrooms new customers who like the originality and freshness of the Bluesummer and thus promoting all the vehicles in the range", says Philippe Narbeburu, Sales Director France for Citroën and DS.
This agreement between the Brand and the Bolloré Group will be formalised through commercial agent contracts with the Citroën dealers who want one.