The Citroën Aircross concept car was unveiled at the 2015 Shanghai Motor Show.
Citroën Aircross boasts unique presence among SUVs with its overall balance and flowing design, giving the protective and welcoming concept car a strong identity and a resolutely optimistic spirit.
The cabin brings occupants a new approach to car travel with a modern, bright, fresh and functional design generating physical and mental well-being.
Dialogue and sharing are facilitated in a connected SUV with outstanding graphic interfaces and equipped with plug-in hybrid technology.
As it celebrates its 50 millionth car sold since the creation of the Brand some 95 years ago, Citroën is unveiling a surprising, creative and bold new concept car, one that confirms its ability to develop a positioning that is:
Citroën Aircross illustrates the Brand's international ambitions, rolling out its positioning initiated with the C4 Cactus with a body style intended for sale around the world.
Citroën Aircross shakes up design cues while respecting SUV essentials. Drawing on the product and styling traits of the C4 Cactus, the body design and cabin ambience express a sense of modernity and a singular spirit. The new concept car shows Citroëns ability to assert its identity in all vehicle segments.
The Citroën Aircross concept car successfully builds on the achievements of the C4 Cactus with:
Blending power and positive energy, Citroën Aircross is a protective and welcoming SUV.
The resolutely optimistic vehicle casts of any sense of aggression in favor of:
A singular, pure and optimistic personality, through the overall balance of the body styling, with a horizontal emphasis and underscored by flowing and organic forms punctuated by strong graphic components including "Alloy Bumps" and "Air Signs". The global result is heightened by orange-red body paint symbolizing energy and serenity and innovative materials denoting robustness;
A styling approach emphasizing functionality and aerodynamics.
An invitation to travel in a cabin bringing an immediate sense of consummate comfort and the generation of energy. Everything inside Citroën Aircross was designed to foster physical and mental well-being. In addition to the physical comfort provided by the broad and generous seats, well-being is further heightened by warm materials and a blend of light and invigorating colors. The purely-drawn lines with their crosswise emphasis suggest space, while the ample geometric shapes structure the uncluttered interior, each one combining aesthetics with functionality. Citroën Aircross posits a new take on the travel theme with specially designed storage compartments and the use of straps in a fresh and contemporary cabin inviting passengers to take to the road together and in their own style.
Technological intelligence harnessed for practicality, with occupants able to choose between sharing and an individual experience. The concept car is equipped with two 12-inch HD screens, one of which is mobile and can be passed from one passenger to another. Each seat is equipped with speakers and microphones to encourage dialogue between passengers. Technological intelligence is also expressed in the choice of a plug-in hybrid drivetrain, combining efficiency and top-level performance. Citroën Aircross features meaningful technologies for relaxed mobility and a new travelling experience.
"The cleanest SUV" : When the driver places strong pressure on the accelerator pedal and when torque is required immediately, a boost function combines the torque of the internal combustion engine with that of the electric motor, delivering 313 bhp (230 kW); fuel consumption is projected to be 1.7 l/100 km / 138 mpg, with 39 g/km of CO2(MVEG combined cycle).
Citroën Aircross accelerates from 0 to 60 mph in 4.5 seconds.
Citroën developed a fresh take on the C4 Cactus's Airbumps for the Aircross, adapting them to SUV requirements. While the Airbumps are designed to protect the body from everyday bumps and scrapes, the Alloy Bumps protect the vehicle from lateral impact with their visible padding. The Alloy Bumps are made up of a honeycombed structure in highly absorbent aluminium foam, a material originating in motorsport.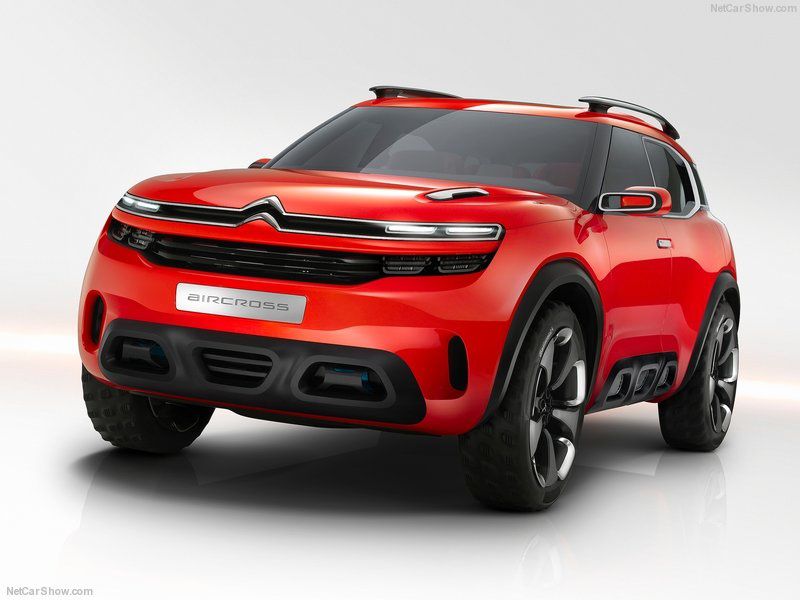 Citroën Aircross is powered by plug-in hybrid petrol technology, with an electric motor located on the rear axle. This configuration is a perfect fit for the Citroën Aircross, optimising performance and traction while ensuring low fuel consumption and emissions.The electric motor develops 95bhp (70kW) and torque of 200Nm. The motor is powered by lithium-ion batteries that charge up in just three and a half hours via a 16A domestic socket. The electric motor is combined with a 1.6 THP petrol engine developing 218bhp (160kW) and torque of 275Nm.With its plug-in hybrid powertrain, the Citroën Aircross respects the environment. This is especially true in urban driving conditions in ZEV mode. This all-electric mode has a range of 31 miles (50km).On roads that require successive acceleration and deceleration, the hybrid technology limits fuel consumption by combining both energy sources. On the motorway, the internal-combustion engine takes over, providing optimum high-speed performance.No compromise has been made in terms of driving pleasure. When the driver accelerates quickly and torque is required immediately, a boost function combines the torque of the internal-combustion engine and the electric motor delivering optimum performance with up to 313bhp available. Combined cycle fuel consumption is 138mpg (1.7 l/100 km) and CO2 emissions are an impressively low 39g/km. Citroën Aircross accelerates from 0 to 62mph in just 4.5 seconds.
TECHNICAL CHARACTERISTICS
Dimensions
Length: 4.58 m
Width: 2.10 m
Height: 1.73 m
Wheelbase: 2.80 m
Plug-in hybrid drivetrain
1.6 THP petrol engine
power: 218bhp (160kW)
torque: 275Nm
Electric motor on rear axle
power: 95bh
ptorque: 200Nm
ZEV mode: range of 31 miles (50km)
Performance, fuel consumption & emissions
0-62mph (0-100km/h): 4.5 s
Fuel consumption: 138mpg (1.7 l/100 km) MVEG combined cycle
CO2 emissions: 39g/km
Tyres: Continental 275/45 R 22