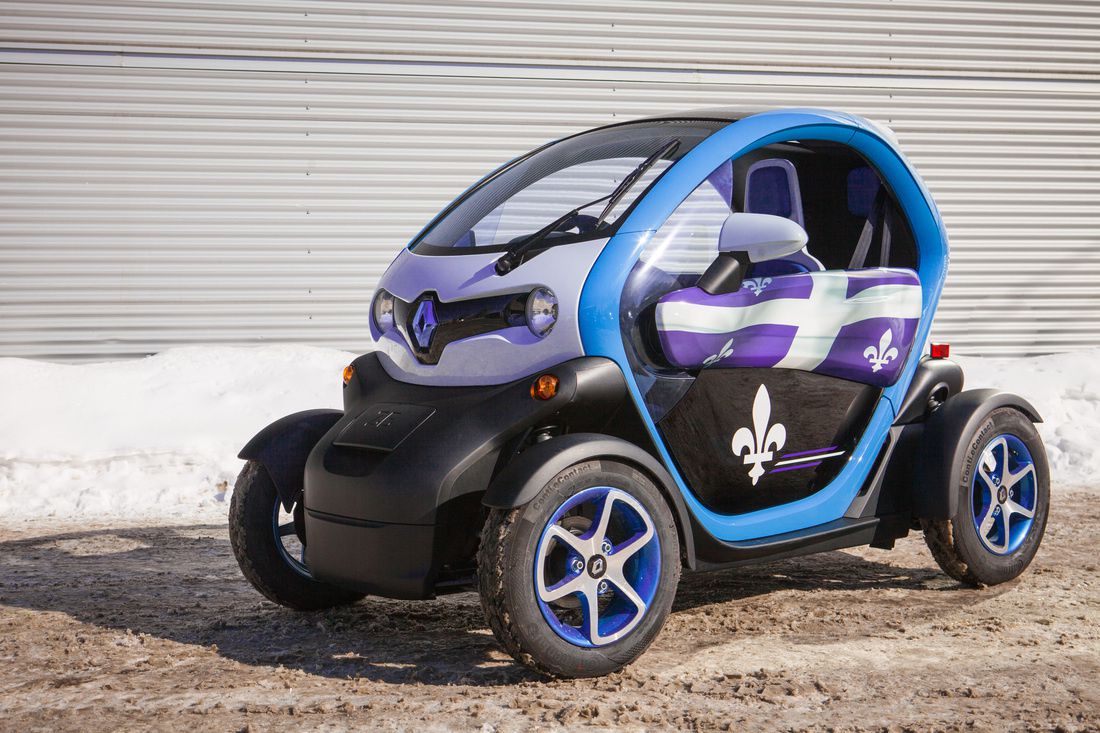 Quebec wants to be the world leader in electric vehicles. This is a match ! Renault has the largest electric vehicle range with its Z.E. program, Z.E. for Zero Emission.
Furthermore, we know that Renault is looking for a partner to commercialize Twizy in Quebec.
Available for the European market, the Z.E. range includes 5 vehicles from the Neighborhood Electric Vehicles to the electric cars/light commercial vehicles.
The "Québécois" Twizy was modified to respect the North American laws. As you know, when a car is registered in Canada, it is pretty simple to import and register the car in the USA.
As far as we know, one Twizy was imported from Germany to Florida a few year ago.
The Renault Z.E. is a program of all-electric cars from Renault and it began with a series of Z.E. concept cars. The first production car is the Renault Fluence Z.E. that is scheduled for sales to the public in Israel and Denmark by late 2011 as part of the Better Place network. In 2011 Renault was awarded a contract to supply 15,600 electric vehicles to the French Government and the state-owned postal service, La Poste. The vehicles are to contribute to a planned 25,000 electric vehicle fleet owned by the French Government.
The Renault Twizy is a battery-powered two-passenger electric vehicle designed and marketed by Renault and manufactured entirely in Valladolid, Spain. Legally classified in Europe as a heavy quadricycle (light quadricycle for the lower-powered Urban 45 model), the Twizy has a maximum range of 100 km (62 mi).The 2009 conceptThe Twizy debuted as a concept car unveiled at the 2009 Frankfurt Motor Show and was designed by Françoise Leboinne and Luciano Bove. In November 2010, Nissan announced a rebadged variant to the Twizy, called the New Mobility Concept, or NMC. In May 2011, Renault announced they would produce the Twizy and began taking reservations.In March 2012, the Twizy was released to the France market, followed a month later in the UK and several other European countries. Available in three models, starting at €6,990 up to €8,490 (USD : 7,400 up to USD8,900, in the UK: GB£6,990 to GB£7,400), the Twizy sales price does not include the battery pack, which is leased for a monthly fee that includes roadside assistance and a battery replacement guarantee. The Twizy was the top-selling plug-in electric vehicle in Europe during 2012. Since its introduction, 14,160 units have been sold worldwide through October 2014, with Germany, France, Italy and Spain as the top selling markets.