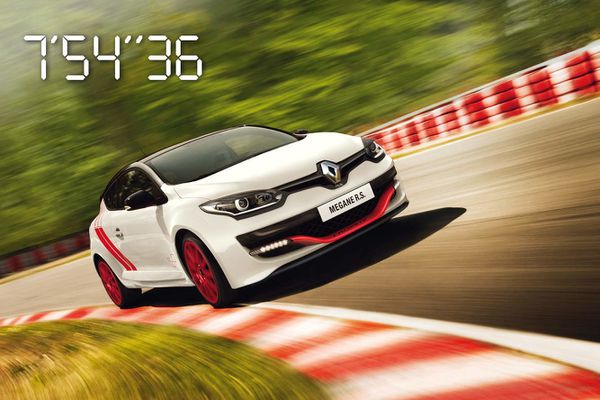 Having established records with Mégane R26.R in 2008 and Mégane R.S. Trophy in 2011, the engineers at Renault Sport were not content to rest upon their laurels. With a lap time of 7m54.36s, Mégane R.S. 275 Trophy-R engraved its name and performance potential in the Nürburgring's history books right from its very first official outing.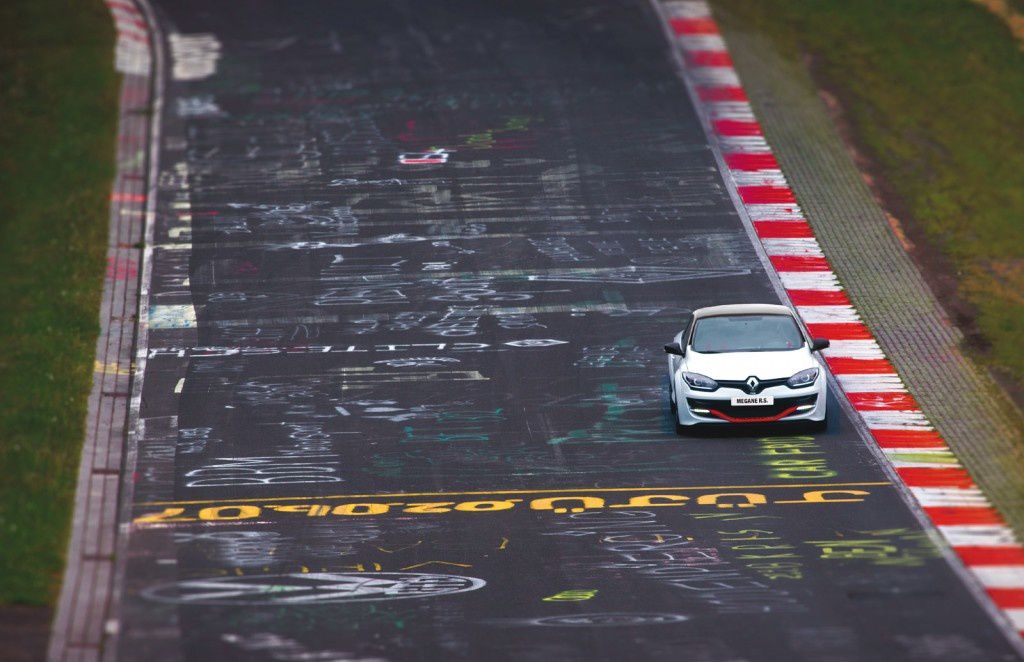 Mégane R.S. 275 Trophy-R is a two-seater derivative of the recently-introduced Mégane R.S. 275 Trophy. This exclusive new Renault Sport limited-edition benefits from ultra-sporty features inherited from the brand's racing activities, while a loss of almost 100 kilograms has resulted in enhanced performance.
Mégane R.S. 275 Trophy-R comes as standard with the Cup chassis (complete with limited-slip differential), the 2.0-litre petrol R.S. engine boosted to 275bhp, a titanium Akrapovic exhaust system, 'Öhlins Road&Track' one-way adjustable dampers with composite springs and Michelin Pilot Sport Cup 2 tyres that are specifically-adapted to the car.
Whilst Mégane R.S. 275 Trophy-R manages without rear seats, in the front can be found Recaro Pôle Position polycarbonate monocoque seats, which yield a weight saving of 42 kilograms. These are fitted with a three-point seat belt, but a six-point harness with aviation-style buckle is available as an accessory. A retention beam and safety nets protect passengers from moving luggage.
For track-day fans eager to gain several vital seconds over the course of a lap, the use of a lithium-ion battery trims the overall weight by another 16 kilograms.
To ensure high-performance braking whilst at the same time contributing to the weight-shedding effort, Mégane R.S. 275 Trophy-R benefits from a special braking kit. Its 350/28-diameter steel and aluminium discs bring the car's weight down by a further three kilograms. Ideally adapted to intensive circuit use, these Renault Sport-etched brakes endow the vehicle with a sharper bite.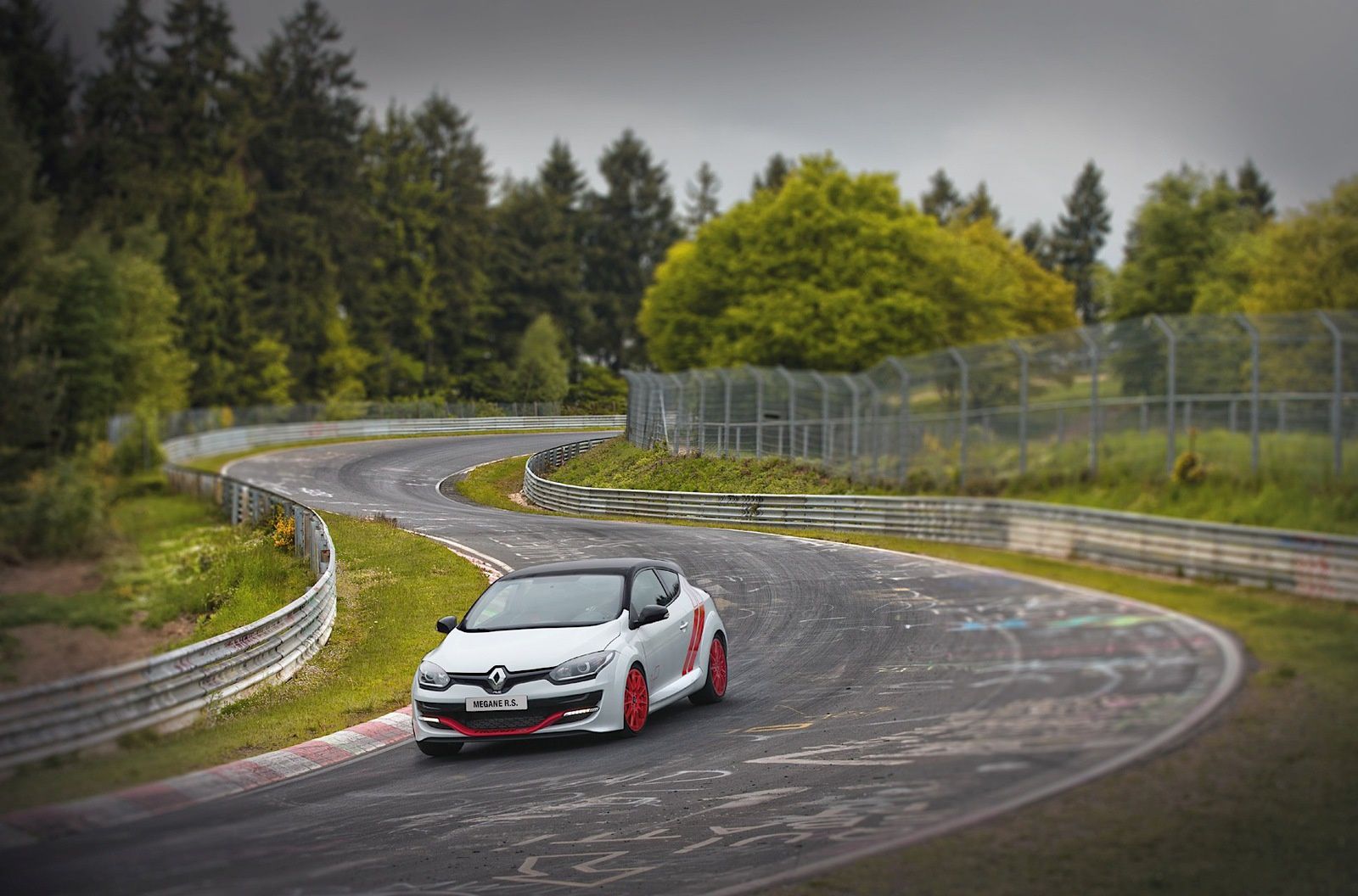 On the outside, Mégane R.S. 275 Trophy-R sports a new two-tone colour scheme, with an Etoilé Black roof mated with a Pearlescent White finish (optional). The Trophy-R branded F1-type front blade, chequered flag graphic at the bottom of the front doors and graphics on the side of the car are all picked out in Vif Red. Finished off with 19-inch black or red Speedline wheel rims, this is a vehicle that sets itself apart as much on the circuit as on the open road.
The exclusivity of Mégane R.S. 275 Trophy-R similarly stands out in details like its Alcantara-trimmed steering wheel and handbrake bellows, leather gearshift knob and red seatbelts which match the visible stitching of the seats and steering wheel.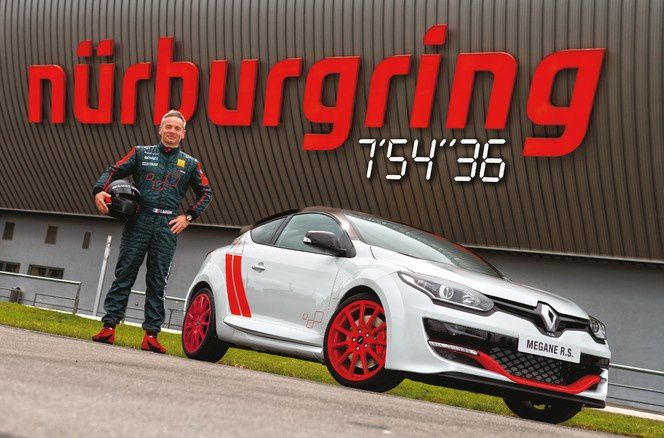 Mégane R.S. 275 Trophy-R benefits from the experience acquired by Renault's engine and chassis engineers in motorsport – from rallying to Formula 1. This 14-seconds improvement on the previous record set by Mégane R.S. Trophy in 2011 was achieved thanks to the commitment of the teams at Renault Sport Technologies and their partners. Hundreds of hours of prior testing were conducted in France, Spain and Germany to optimise the development of this limited-edition model that boasts exceptional on-road dynamics. The new lap record established by Mégane R.S. 275 Trophy-R underscores once again the knowhow and expertise of the specialists at Renault Sport Technologies when it comes to designing outstanding affordable sporting cars.
THE RENAULT MEGANE SMOKED THE NORDSCHLEIFE - NURBURGRING VIDEO
To complete the French lesson, we are waiting for Peugeot to bring the Peugeot 208 T16 Pikes Peak on the Nordschleife, Nürburgring. In a total different categorie, the Peugeot 208 Pikes Peak could simply come to make the new lap record. Go Peugeot !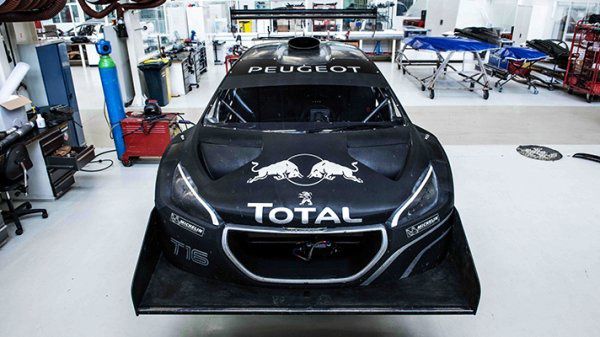 The 150,000 capacity Nürburgring is a motorsports complex around the village of Nürburg, Rhineland-Palatinate, Germany. It is located about 70 km (43 mi) south of Cologne, and 120 km (75 mi) northwest of Frankfurt. It features a Grand Prix race track built in 1984, and a much longer old "North loop" track which was built in the 1920s around the village and medieval castle of Nürburg in the Eifel mountains. The north loop is 20.8 km (12.9 mi) long and has more than 300 metres (1,000 feet) of elevation change from its lowest to highest points. Jackie Stewart nicknamed the old track "The Green Hell," and it is widely considered to be the most demanding and difficult purpose-built racing circuit in the world.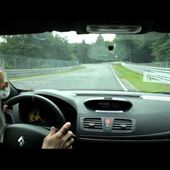 PEUGEOT RCZ R ON THE ROAD BY THE END OF THE YEAR
Does the Renault Megane R.S. will stay the fastest FWD on the Nordschleife Nürburgring ? Done in 8:07, the Renault Megane beats many Prosches and the record of the BMW 1-serie. Amazingly, Peugeot ...
http://www.french-cars-in-america.com/peugeot-rcz-r-on-the-road-by-the-end-of-the-year