At the Geneva Motor Show, Citroën is premiering the new Citroën C1, a fresh take on a best-seller that has notched up more than 780,000 sales since its launch in 2005. This new city car is available in 3- door and 5-door versions and also in a new open-top body style called Airscape. A car with a strong personality, delivering an upbeat response to urban mobility requirements, the new Citroën C1 reflects the renewal of Citroën.
The dynamic, lively styling is underlined by the visual continuity between the windscreen and side windows, with black windscreen pillars and, depending on trim, chrome-finish weatherstrips. The front end gains the features identifying the new brand models. The two-part headlamps and round inserts create a smiley front end with a cheeky gaze. The vertical daytime-running LED lights create a light signature emphasising the car's cheerful gaze and strong character. The glass tailgate and square lights add momentum to the rear end, creating a 3D effect.
The new Citroën C1 is a car of free-thinking design with an irresistible expression, underlined by compact, condensed volumes and wider tracks at both the front and rear.
It is clearly a member of the family of new Citroën vehicles. With its strong personality, it has immediate appeal and the ability to attract attention.
Cheerful and bubbly, the new Citroën C1 is available in eight up-to-the-minute exterior colours, from the sophisticated Caldéra Black, Gallium Grey, Carlinite Grey and Olive Brown to the radiant Lipizan White, Smalt Blue, Scarlet Red and Sunrise Red. The new Citroën C1 is also personalisable with its two-tone colour options. Two special launch versions are available with different body and roof colours (Olive Brown roof and Lipizan White body).
The convertible version, Airscape, is also two-tone. A soft top contrasting with the body colour is available in a choice of three colours: Sunrise Red, Black or Grey.
As a final touch of urban chic, this modern city car is available with 14'' or 15'' wheel covers and 15'' diamond-tipped alloy wheels. The interior of the new Citroën C1 l is bright and breezy too, with a cheerful, colourful ambience.
Designed in clean, structured lines, the dashboard features bright touches of colour on the multimedia panel, air vent trim and gearlever base. As a finishing touch, the door panels include body-coloured inserts.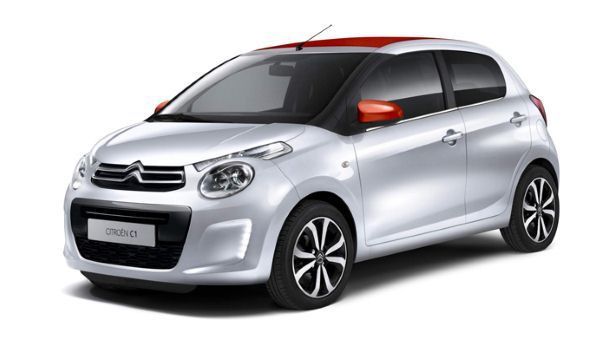 The new Citroën C1 gives you a fresh standpoint on the city and its constraints. Its aim: to make the city its playground of choice.
The new Citroën C1 delivers day-to-day driving pleasure and sensations. The Airscape open-top body style reveals itself to the city in both 3-door and 5-door versions, a class exclusive. The exceptionally large soft top (800 mm x 760 mm) has easy-to-use power controls. The Airscape open-top versions create a sense of escape. Passengers can take a moment to enjoy life and urban living at any time, for a greater sensation of everyday freedom and driveability.
The new Citroën C1 is designed to carry up to four adults in comfort, with generous space at both front and rear. Both the 3-door and 5-door versions maintain compact dimensions.
This is still a versatile city car, one of the most compact on the market. Its neat dimensions make it easy to nimble and easy to manœuvre with an optimum turning radius of 15.7 ft or 4.80m and electric power steering. Easy to handle, it makes light work of urban obstacles.
The new Citroën C1 combines dynamic, vibrant design with easy use and essential everyday features. Your ideal day-to-day partner, it ships with a range of convenient, ingenious storage compartments around the cabin, with cup holders and a glovebox able to hold a one-litre bottle and with a lid for greater peace of mind. The new Citroën C1 is also an ergonomic car, designed to make everyday life easier. The functional 196 litre boot is easy to access, with the parcel shelf folding away when the tailgate is opened. With the rear seats folded, boot capacity increases to 780 litres. The new Citroën C1 also ships with a range of features designed for your comfort, such as automatic air conditioning, heated seats and, for the 3-door version, memory settings for the front seats.
The new Citroën C1 also sets high standards in comfort and road manners. Compared with the previous-generation model, the new Citroën C1 ships with a rear axle that is 4 kg lighter, new suspension springs, new shock absorbers and a new large-diameter anti-roll bar. These changes improve both suspension comfort and road manners. Further, the new electric power steering delivers a precise, enjoyable drive. Steering is smooth, satisfying and sharp, both in the city and on the open road, making a real contribution to driving pleasure.
At the same time, the new tyres with very low rolling resistance and compact dimensions (14 and 15 inches) contribute to strong braking and lower fuel consumption.
The new Citroën C1 brings you an enjoyable, comfortable and relaxed driving experience, on all types of road.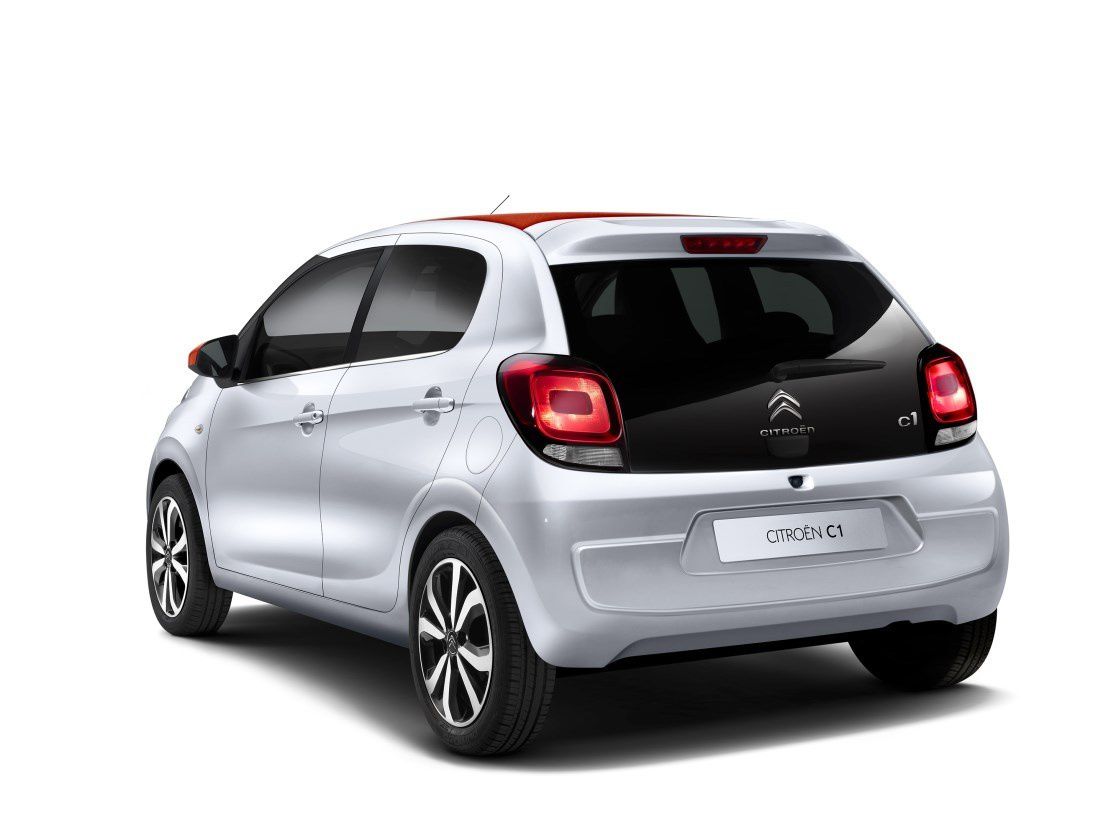 The new Citroën C1 ships with intuitive, easy-to-use technologies. It is available with a 7'' touchscreen grouping all media functions (radio, telephone, video player, onboard computer). Never alone, always on line. The new Citroën C1 features advanced connectivity with Mirror Screen technology. This function lets you copy smartphone content onto the 7'' touch screen for easy display and control. To do this, you simply need to check the compatibility of your smartphone, install the data exchange app and plug it into the car's USB port. You can then take advantage of the full range of smartphone apps from the 7'' touchscreen: navigation, telephone, address book, music, web radio... and any other useful driving- compatible apps.
The new Citroën C1 also delivers a relaxed drive. To simplify manœuvres such as parking in tight spaces, a reversing camera projects images onto the 7'' touchscreen. The new Citroën C1 now features hands-free entry and start. This function lets the driver enter and start the car without taking out the electronic key. Already present on vehicles further up the market, this system makes life easier for users. Another useful function fitted as standard is hill-start assist. This feature can prove essential in the city, when leaving an underground car park, for example. It holds the car steady for two seconds for an easy re-start on slopes with a gradient of over 3%.
The new Citroën C1 also makes economic sense with its affordable price tag and optimised running costs.
Weighing just 1,058 lbs / 840 kg and fitted with very low rolling resistance tyres and efficient latest- generation engines, it consumes 3.8l/100 km * for low servicing costs.
The new Citroën C1 ships with a choice of two latest-generation petrol engines.
With the VTi 68 S&S engine mated to a 5-speed gearbox and featuring Stop&Start technology with a special aerodynamics pack, the new Citroën C1 is on a par with the best for fuel consumption of 63 MPG / 3,8 l/100 km and CO2 emissions 88g/km. The VTi 68 engine is also available with the clutchless ETG (Efficient Tronic Gearbox). This 5- speed gearbox features a creep function and optimised pedal mapping, adjusting power effectively for smoother start-ups and enhanced driveability.
The new Citroën C1 is also available with the new PureTech 82. Built in France, this 1.2 litre 3-cylinder petrol engine developing 82 bhp uses innovative, efficient and economical technologies, for fuel consumption of 4.3l/100 km and CO2 emissions of 99g/km, allied with driveability and nimble performance. With torque of 116 Nm and 0 - 100 kph acceleration in 11 seconds, this engine contributes to the ability of the new Citroën C1 to head for the open road.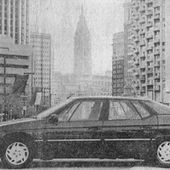 THE LAST CITROËN SOLD IN THE USA / CANADA
As we already wrote, Citroën officially sold its last car in the USA / Canada in 1974. The carmaker withdrew from North America due to design regulations that outlawed core features of Citroën cars
http://www.french-cars-in-america.com/2014/01/the-last-citro%C3%ABn-sold-in-the-usa-canada.html